BIOGRAPHY
CLAIRE YARRINGTON has enjoyed a career spanning four decades of involvement in performing, directing and providing positive instruction and mentoring in the performing arts; including founding California Theatre Arts in Walnut Creek in 1984 with the vision of providing a high quality integrated program of study in theatre, voice and dance. In 2001, she became the Artistic Director of CTA Crossroads Theatre, a position held in regional theatre for eight years.
Claire has directed, produced and/or choreographed more than 100 musicals, plays, showcases and reviews, including Equity approved productions of Into the Woods and Cinderella, and regional professional productions of Seussical and Footloose. As Artistic Director, she guided Crossroads theatre through seven seasons, including a world premier (Little Women) and two northern California premiers (Seussical, High School Musical.)
Stage roles have included Peter Pan (Peter Pan), Queen of Hearts (Alice in Wonderland), Margaret (The Lady'•ôs Not for Burning), Liliane LeFleur (Nine) and Stella Deems (Follies) directed by Jack Cook. Ensemble and featured roles in numerous productions from My Fair Lady and The Secret Garden to Naughty Marietta and The King and I.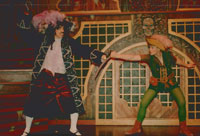 A summa cum laude graduate of Brigham Young University and formerly with the Royal Academy of Dancing, Claire has served on the faculty and as Director of California Theatre Arts for twenty-five years, directing three acclaimed vocal performing groups (Young Performers Company, Harmony West and Triple Threats.)
Claire considers among her greatest accomplishments a 30-year marriage to husband David, three wonderful children and seven grandchildren, including several budding performers. Experiences as a performer as well as director and instructor have given her the vision and skill to guide performers in a pathway of integrity and high moral compass. She has enjoyed teaching with Broadway professionals on both coasts.